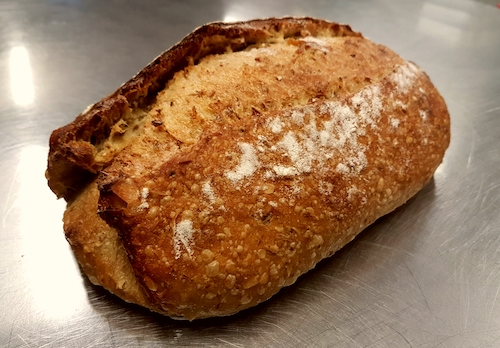 Brewers and Bakers, two ancient crafts working together
We were delighted to be approached by the Natural Foods Bakery who proposed to use some of our spent grains (left over after the brewing process) in one of their breads.
Neither of us were sure how or if this would work, but both of us share a passion for using top quality natural ingredients.
After much experimentation the guys came back with a bread they were happy with and like the rest of what they do it was really good.
It's great to be able to work with another small local business to bring new and unique products to the market.
THE NATURAL FOODS BAKERY
Founded in Cork in 2002 above Natural Foods Health Food Store @ 26 Paul St. We are a traditional artisan bakery making sourdough + yeast breads, cakes, pastries and specialist dietary products for our cafes and for wholesale across Cork City. We believe in wholefoods, producing everything by hand from scratch 7 days a week. Our Health Food background means that, while we make a full range of traditional baked goods, we also have a particular focus on long-fermented sourdough breads and vegan, vegetarian, wheat-free, sugar-free, dairy-free and gluten-free options. Following the ancient tradition of bakers and brewers working together our loaf "Breademption" takes waste mash from Rising Sons brewing process and incorporates it into a 100% sourdough bread, fermented for 24 hours. This increases the nutritional value of the bread and supports our ethos of sustainability and local collaboration.